Arguello Catering
A Caterer SF Trusts
Delicious Food w/ Superior SErvice
Caterer SF has been catering exceptional food throughout Northern California for years. Our specialties include American, Mexican, Italian and BBQ. We do banquets, weddings, corporate parties and general events. Our team also offers prepared meal packages delivered to your door. Our goal is to make the process easy, simple and straightforward. Our mission is to provide an excellent culinary experience with fantastic service. Have us cater your next event or consider our packaged meals for delivery. Our staff of dedicated chefs are eager to serve you with delicious meals.

Banquets & Events
A full-service catering team, we are experts with banquets & parties of any size. We service any group size with a range culinary experiences & types of services. Our team has cooked and served for thousands at corporate events. We also enjoy catering for small and intimate gatherings. Whether it is your wedding, birthday party or corporate banquet, we have you covered. Our secret is to maintain a high level of culinary execution, provide reliability and outstanding service to our clients. We make sure your event is remembered for a lifetime.
Wedding Catering
Arguello Catering is an experienced catering company providing high-quality wedding meals from Oakland, CA. The cuisine is memorable and will make your guests talk about the wedding for years. The service makes sure you and your guests are comfortable with the entire process and event. You become part of our family when you decide to work with Arguello Catering. The process is seamless and the team is thorough to make sure all your needs are met. It starts with a warm welcome and is followed by diligent guidance for cuisine and service decisions.
Single Meal Delivery
We provide packaged meals delivered to your door. Choose up to ten delicious main and side dishes that can be delivered weekly, monthly or periodically. The items offered feature the best of our dishes from the catering menu. All dishes are ready to eat and need a quick reheat for service. These meals are great for those who need a quick gourmet meal. Freeze them for later meals or share them with friends and family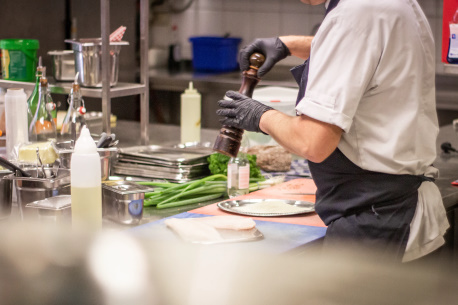 Our Team
Arguello Catering's educated team and extensive menu enable us to design the ideal event for any size, kind, or theme. Arguello Catering's whole team has over 40 years of combined expertise in the culinary and event planning sector.
We cater to customers all throughout San Francisco for weddings, business events, and more. Call us now to learn more about our services!